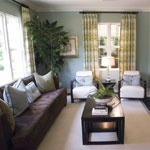 You can easily upgrade and improve your living room for less than you may think. The following tips will show you where to start.
Use Curtains, Not Blinds
Blinds may be inexpensive, but they can also look cheap. White plastic blinds give a sterile, low-quality look to the room. Remember, window treatments are a type of decoration and they can set the whole tone for the room. Switching your blinds for curtains will help soften up a room's edges and add a pop of color.
Paint the Trim
Is painting an entire room too much work or too expensive? Just paint the trim instead. Painting only the trim will allow you to save on both… Read More